AV2000 Series
Command and Control Console
THE FEATURES OF AXPERT VISION CONSOLE
"Ergonomic, Rugged, Compact and Modular Design Particularly
Suitable for Airborne, Land based & Naval Operating Environments"
Axpert Vision offers sophisticated engineering solutions to your extreme organizational needs through state-of-the-art products at your door step.
AV2000 console series offers fully functional, ergonomic rugged working positions for the most demanding command and control applications. Designed for operation in airborne, land based and naval environments, the AV2000 family has been designed with a wealth of configuration options: low or high-end environmental specifications, top-down or side-by-side design, integrated or remote computer processing.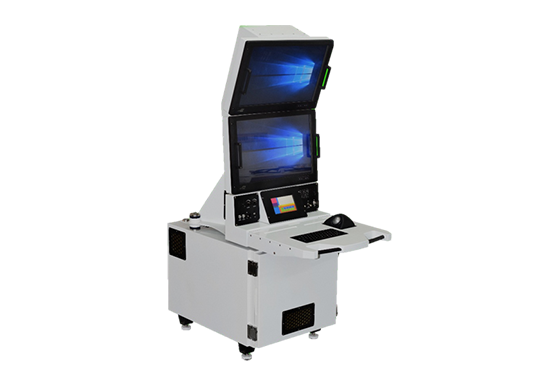 AV2000 Console Series – Main Features:
Modular, flexible and split design approach
Rich choice of functionalities and capabilities
User-configurable, open standard computing rack
Full-range of rugged LCDs (from 17" to 24")
Commonality of spare parts (LRU) between all configurations
Cocooning concept protects COTS components from severe environmental conditions
Modular, User-Configurable Console Series
AV2000 consoles series combine a configurable base unit and an ergonomic human machine interface (HMI) Unit. This fully modular, split-design offers optimal flexibility and allows easy customization according to the required functionalities and the operator's interfacing needs.
Thanks to this modularity, system integrators are sure to have the same look and feel across different platforms and applications, resulting in minimal training and configuration costs in operational environments. Furthermore, the console family's modular concept, extensive BIT and ease of maintenance (thanks to the front-accessible LRUs) guarantee a low lifecycle cost.
For the HMI Unit, customers can select their preferred flat panel display from our full range of LCD displays (ranging from 17″ to 23.8″). Operators are free to combine several screen sizes and can configure the operator desk display (s) for their applications. Other HMI options include: single or dual-head console, side-by-side or top-down console, touch screen input, trackball, keyboard, joystick, audio devices and configurable function keys.
To customize the console series for a wide range of application platforms, two Base Unit options have been developed. To increased modularity or applications in military environments, Axpert Vision has designed a simplified Base Unit based on the 19" industrial standard, which allows integration of an industrial workstation, UPS device and other 19" rack mountable equipment. When no local processing is needed (e.g. in a network with central remote processing), the AV2000 console can come with a pedestal only.